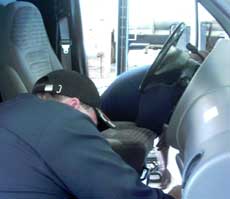 Fleet
Facts
Division Responsibilities

Repair of Vehicles & Equipment:
Over 500 pieces of city owned light and heavy equipment; and vehicles.
Preventative Maintenance:
Oil changes, lubrication, tire replacement and repair, etc.
Welding:
Dumpsters, fences, and any metal structures in need of repair. 2 Welders & 1 Supervisor.

Garage Personnel:
8 Mechanics, 1 Shop Technician, 1 Parts Clerk, 2 Supervisors.

Return to Public Works homepage